Runners are a rare breed. We don't like to take days off unless we need to. And this week, I had a cold and though I was feeling cruddy, really didn't want to take off. I find that as long as it's not a bad cold and mostly in my head (as opposed to chest), running tends to clear me up for at least a few hours. At least that's what I tell myself.
This week was finally warm enough and not snowy enough together back outside for most of my runs! And even though I was somewhat feeling lousy on Sunday, it was 50+ degrees, so I had to get outside for a run, especially after a week of negative degree temps. I thought I'd be able to run maybe one mile, but I surprised myself and got in 4.1.
Lately when running before work in the mornings, I haven't had much time. By the time I pump and get out the door, I find that I only have 30-35 minutes left. Somehow Thursday I ended up with 40 minutes, so I was determined to run at least 4.25 miles.  I barely made it!
Here's a look at how the whole week looked:
It's almost time for me to start training for the Cleveland half marathon! Just a few more weeks until my training starts. In the meantime, I'm excited to share that the Cleveland Marathon announced its gift to Challenge Series participants this year – a muscle roller stick! So in addition to the 3 medals and 2 shirts, you get a muscle roller. How cool is that?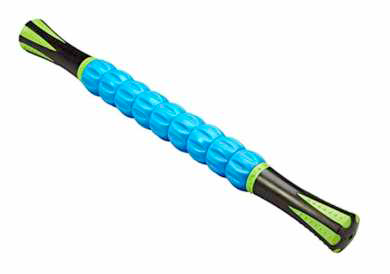 If you are interested in running any event, including the challenge series, as a race ambassador, I have a 10% discount code for you to use! Use MC2019 for 10% off any race entry.
Stay warm this week! It will be spring soon, right?
Some questions for you:
What's the coolest race giveaway/swag you've seen? This muscle roller is pretty cool!
How many days do you typically run?