Happy Tuesday! I'm excited to share that for today's Training Tuesday post, instead of talking through training and particular workouts, I'm just going to share one thing – I completed the recent Runner's World Run Streak! What was that? I ran at least one mile per day, every day, from Memorial Day (Monday, May 25) to the Fourth of July (Saturday, July 4). That's 41 consecutive days of running!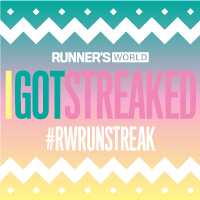 Some highlights from the streak:
Day 1 of the streak – I was in a thick heavy shirt with built-in mittens. The first unofficial day of summer and it was freezing (okay, maybe an exaggeration…it was low 40s) out!

Even on the days I didn't have a run scheduled, I still made sure to get in at least one mile. This was one of my fastest treadmill miles (fast for me at least):

I ran a 5k during one of the runs AND got my coveted sub-25 5K PR! It was humid AND we'd run to the race so I'd love to see what my next 5k holds. Below, B and me with my brother and sister-in-law and their adorable kids at the race.
Celebrating National Running Day with Erica and Nicole – and of course, a run!
One of my college BFFs, Katie, came into town from Seattle and we went for a run by the water to get some good views of the city and the lake.
I even saw a deer one morning on one of my runs downtown in the Flat. So strange to me to see wildlife in the city!
We also got in some runs while traveling. B made it out with me in both Chicago AND Milwaukee to cap off my streak.
Some questions for you:
Did you participate in a running streak? What's the longest you've streaked for?
Do you prefer running in cities? Trails? Countryside? Burbs? Sand?