As you likely heard, Punxsatawny Phill saw his shadow, which means we have more winter coming our way. I know he's not the most scientific source, but based on the way our weather has been, I'd say he was right. I mean come on, each day this week it either was frigid cold or it snowed. Or both. And, my Yaktrax broke (even more) one day while I was running. So, after a few days outside and a few more days on the treadmill, I am definitely ready for warmer temps, less icy sidewalks and sunshine.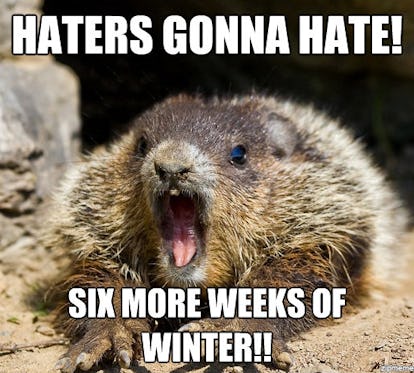 This week's weather doesn't look promising – we're in for ore snow AND a polar vortex. So I may be on the treadmill for a few more days! But at least my running streak is still up. As of today I'm at 290  days of running in a row!
Here is what the week looked like:
Snowy miles. Monday it snowed in the morning and it made for a perfect run. I was the first one out, meaning no footprints and no slippery sidewalks. There's something peaceful about being the first and only one out on a fresh layer of snow, which is what it was like Monday and Tuesday.
Wednesday — a really broken Yaktrax.
And then … Lots of treadmill action. But new sneakers! I have almost 500 miles on my old Sauconys. 
And, outdoor walks with the kids. At least they love the white stuff 🙂 And at least it has been sunny!
I ended the week with 37.03 miles. 4 treadmill days, 3 outdoor days. Fingers crossed the balance is the opposite next week!
Some questions for you:
Do you wear Yaktrax when it's snowy/icy?
Any tips for staying occupied on the treadmill?
I'm linking up with Deborah and Kim for the Weekly Run Down.